Publications
LOCATE JERSEY INTERVIEW WITH LIVINGROOM CEO SIMON TORODE
Saturday, 12 January 2019
Locate Jersey recently interviewed our Founder, CEO Simon Torode and found out a little more about his very positive move to Jersey.
Sometimes, even an expansion across the Channel Islands can be just the catalyst needed to take your business to the next level.

This is certainly true for the founder and CEO of Livingroom in Guernsey, Simon Torode. Sensing it was time to expand the business to Jersey and search out a new life for himself too, Simon's now happy to call Jersey his home.
THE IMPORTANCE OF STANDING OUT
"We're proud that our business stands out from your typical estate agency. Livingroom has a particularly creative ethos and we believe that everyone deserves the best possible levels of customer service. I set the business up in Guernsey in 2006 with just a mobile phone and a computer on the kitchen table and now Livingroom is revered as the leading estate agency in Guernsey – we've come a really long way."
Expanding to Jersey in October 2018 made Livingroom the first Channel Island residential estate agent and Simon's choice to expand to Jersey has not just been a positive move for the business but for himself too:
"I had been monitoring the Jersey market for some time, especially with the continuing success of Livingroom in Guernsey, and it just felt like the perfect time to expand the brand to a new jurisdiction.
"Jersey has a varied and thriving property market, with fabulous homes which attract a lot of interest not just locally but internationally too – allowing us to utilise our marketing skillset to best effect."
Locate Jersey have been brilliant in helping move both myself and the business over to the island. They understood my ambitions for the business and the need to prove our worth and land with confidence in the marketplace. In fact, making sure we were up to scratch and running audits on the business has been a cathartic process in itself and helped me think about the future and plan for Livingroom's continued success. Quite simply, the team at Locate Jersey made the whole process as straightforward as possible."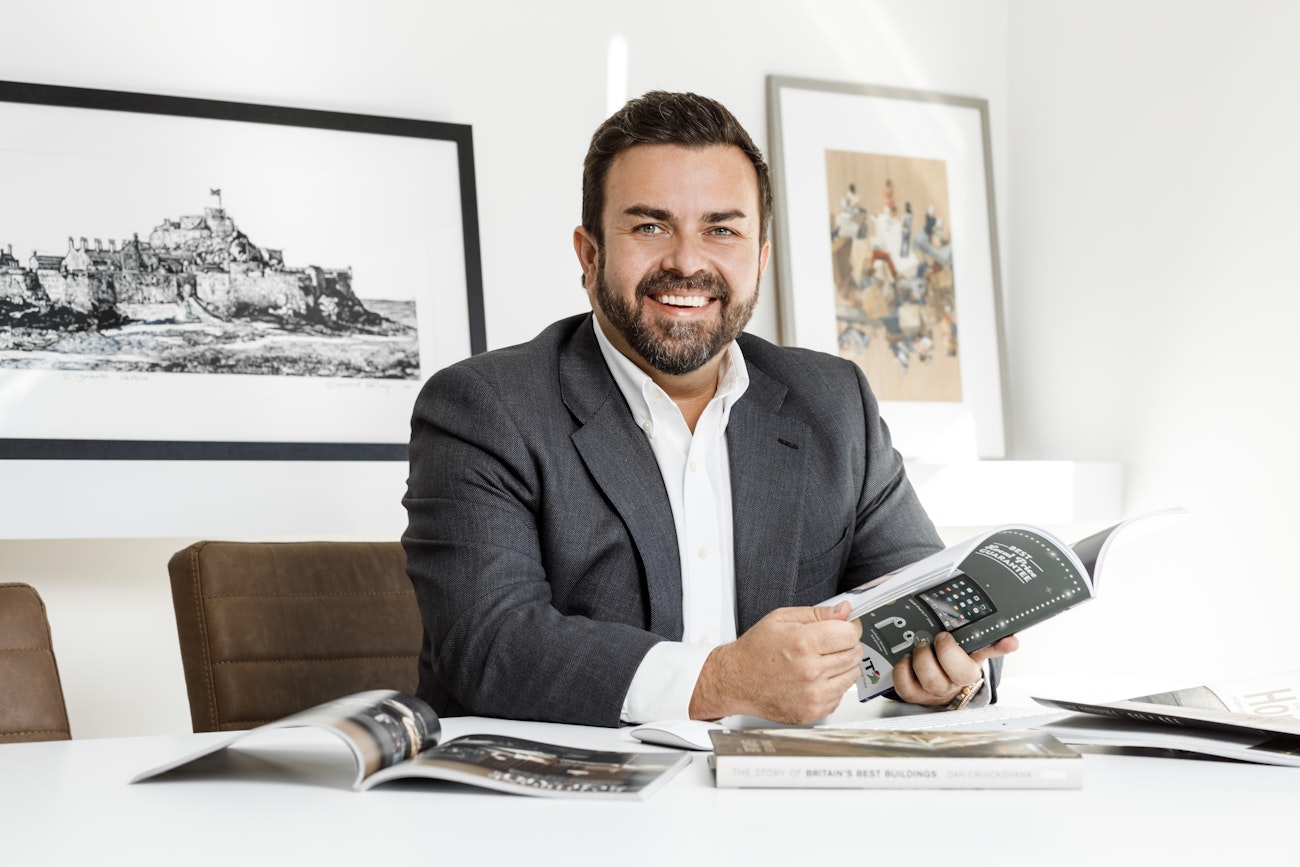 JERSEY – A 'CAN DO' ATTITUDE
"I appreciate both Guernsey and Jersey for different reasons, but Jersey is now my home – I am delighted to be living on such a unique and inspiring island. Me and my dog Mabel really enjoy the beaches – so much so we are now living directly on the beach at Green Island and appreciate the changing panorama every day from glorious still sunsets to wild seas.
I love eating out in the array of restaurants we have in Jersey, together with meeting new people; after all, it's the people who give the island a certain edge. The Jersey community has a fundamental 'can-do', positive attitude, largely helped by the fact that it is a population made up of a variety of creatives, industry areas and mentalities. Even when eating out, and going into independent, local shops, it's clear that there is a great level of aspiration.
"The Jersey Government is progressive too; there's a real desire to attract interesting and varied new businesses and individuals to move here. I have been very impressed by the balance shown by government and how accessible the politicians are."